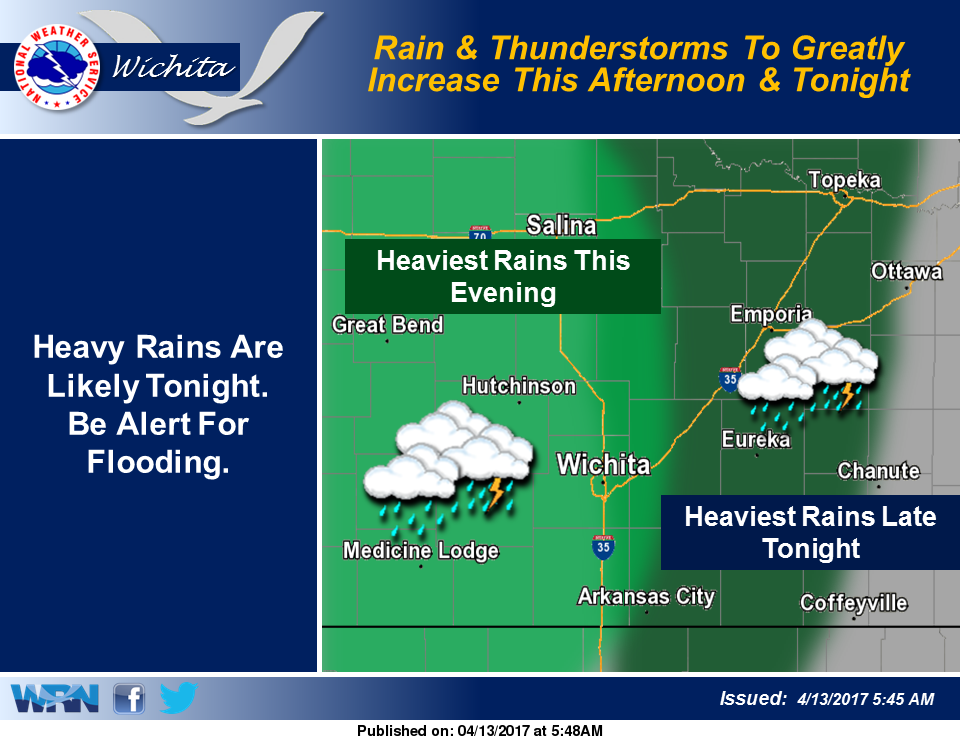 A dangerous severe weather threat is possible this evening across South Central Kansas with the chance of baseball sized hail and destructive 75 mph straight line winds. Flooding is also a concern. Here is today's SPC Outlook.
...THERE IS AN ENH RISK OF SVR TSTMS ACROSS CENTRAL/EASTERN KS AND NORTH-CENTRAL OK...
...THERE IS A SLGT RISK OF SVR TSTMS ACROSS THE SOUTH-CENTRAL PLAINS/MIDDLE MO RIVER VALLEY...
...THERE IS A MRGL RISK OF SVR TSTMS SURROUNDING THE SLGT RISK FROM THE SOUTHERN PLAINS TO THE UPPER MIDWEST...
SUMMARY
SEVERE THUNDERSTORMS WILL BE POSSIBLE THIS AFTERNOON AND EVENING
ACROSS PORTIONS OF THE CENTRAL AND SOUTHERN GREAT PLAINS NORTHWARD
INTO PARTS OF THE FAR EASTERN DAKOTAS AND WESTERN MINNESOTA. THE
GREATEST POTENTIAL FOR SEVERE STORMS...CAPABLE OF VERY LARGE
HAIL...DAMAGING WINDS...AND A COUPLE OF TORNADOES...WILL BE ACROSS
PORTIONS OF CENTRAL AND EASTERN KANSAS AND NORTH-CENTRAL OKLAHOMA.
SYNOPSIS
RELATED TO AN EAST/NORTHEASTWARD-SHIFTING UPPER
TROUGH...STRENGTHENING/CYCLONICALLY CURVED MID/HIGH-LEVEL FLOW WILL
CONTINUE TO OVERSPREAD THE PLAINS TOWARD THE UPPER MIDWEST/LOWER MO
VALLEY THROUGH TONIGHT. A TROUGH-EMBEDDED UPPER LOW WILL PIVOT OVER
THE NORTHERN HIGH PLAINS...WHILE A SHORTWAVE TROUGH/SPEED MAX
OVERSPREADS AN INCREASINGLY MOIST/UNSTABLE BOUNDARY LAYER LATER
TODAY ACROSS THE SOUTH-CENTRAL PLAINS/MIDDLE MO VALLEY.
SOUTH-CENTRAL PLAINS INCLUDING KS/OK
CONSIDERABLE CLOUD COVER/SCATTERED THUNDERSTORMS ARE PRESENT EARLY
THIS MORNING FROM EAST-CENTRAL NEB SOUTHWARD INTO
NORTH-CENTRAL/WEST-CENTRAL OK. WHILE A FEW STRONGER STORMS WILL
PERSIST...ORGANIZED SEVERE THUNDERSTORMS ARE UNLIKELY EARLY TODAY.
IN THE WAKE OF THIS ACTIVITY...A MODERATELY MOIST AIR MASS FOR THE
SEASON WILL BE TRANSPORTED NORTHWARD...WITH MOSTLY LOWER/MIDDLE 60S
F SURFACE DEWPOINTS /WHICH ARE AS FAR NORTH AS NORTH-CENTRAL TX AS
OF 12Z/ BECOMING INCREASINGLY ESTABLISHED ACROSS OK INTO
CENTRAL/EASTERN KS. A 13.5 G/KG MEAN-MIXING RATIO WAS NOTED IN THE
12Z OBSERVED SOUNDING FROM FORT WORTH THIS MORNING /ROUGHLY 90TH
PERCENTILE CLIMATOLOGICALLY/. GIVEN ANTICIPATED DIURNAL
HEATING/MIXING ON THE WESTERN PERIPHERY OF THE EARLY-DAY DEPARTING
CLOUDS/PRECIPITATION...THIS SHOULD RESULT IN UPWARDS OF 1000-2000
J/KG MLCAPE BY MID/LATE AFTERNOON AHEAD OF THE EAST/SOUTHEAST-MOVING
COLD FRONT ACROSS KS AND NEAR/EAST OF THE DRYLINE ACROSS OK.
AIDED BY INCREASING FORCING FOR ASCENT ASSOCIATED WITH THE
EAST/NORTHEASTWARD-EJECTING BASED-EMBEDDED SHORTWAVE TROUGH AND
ASSOCIATED SPEED MAX ALOFT...THUNDERSTORMS SHOULD INITIALLY DEVELOP
AS EARLY AS 20Z-21Z ACROSS CENTRAL KS NEAR THE FRONT. ADDITIONAL
DEVELOPMENT IS EXPECTED ACROSS SOUTH-CENTRAL KS /INCLUDING WICHITA
VICINITY/ INTO PARTS OF NORTHERN OK BY LATE AFTERNOON AND EARLY
EVENING...MAINLY IN VICINITY OF A WEAK FRONTAL WAVE AND NEAR THE
FRONT/DRYLINE INTERSECTION AND POINTS SOUTHWARD.
SUPERCELLS CAPABLE OF LARGE HAIL WILL INITIALLY BE POSSIBLE...AND AT
LEAST SOME TORNADO RISK SHOULD EXIST AS WELL PARTICULARLY ACROSS
SOUTH-CENTRAL KS/NORTH-CENTRAL OK TOWARD/JUST AFTER SUNSET.
STORMS SHOULD STEADILY INCREASE IN COVERAGE THROUGH THE EVENING WITH
A QUASI-LINEAR MODE EVOLVING ESPECIALLY ACROSS KS INTO SOUTHEAST NEB
GIVEN THE FRONT-RELATED FORCING AND BACKED MID-LEVEL WINDS. THIS
SHOULD PROMOTE THE EVOLUTION OF A LARGER CONVECTIVE CLUSTER BY
AROUND MID-EVENING...WITH AT LEAST SOME RISK FOR DAMAGING WINDS
CONTINUING/SPREADING EAST-SOUTHEASTWARD ACROSS EASTERN KS/FAR
NORTHEAST OK THROUGH THE LATE EVENING/EARLY OVERNIGHT HOURS.
TO THE SOUTH OF NORTH-CENTRAL OK...STORM COVERAGE IS MORE UNCERTAIN
WITH SOUTHWARD EXTENT ALONG THE DRYLINE ACROSS WEST-CENTRAL
OK...WITH A NOTABLE ABSENCE OF DEEPER CONVECTIVE DEVELOPMENT
DEPICTED IN MOST 00Z/06Z-BASED DETERMINISTIC MODELS AND
HIGHER-RESOLUTION CONVECTION-ALLOWING MODELS/RELATED ENSEMBLES.
WHILE A COUPLE OF STORMS WILL PROBABLY TRY TO DEVELOP/REMAIN
SUSTAINED PRESUMING SUFFICIENT NEAR-DRYLINE
HEATING/MIXING...CONFIDENCE IS LIMITED BY RELATIVELY MODEST
NEAR-DRYLINE CONFLUENCE/CONVERGENCE WITHIN THE LOWEST 1-2 KM AGL.
REGARDLESS...SUPERCELL-CONDUCIVE DEEP-LAYER SHEAR AND BUOYANCY WOULD
YIELD AN ISOLATED SEVERE RISK IF/WHERE STORMS DEVELOP AND REMAIN
SUSTAINED ACROSS OK...PARTICULARLY GIVEN THE LIKELIHOOD OF A MORE
DISCRETE CONVECTIVE MODE VIA DRYLINE-NORMAL-ORIENTED
DEEP-LAYER-SHEAR VECTORS. AS PREVIOUSLY MENTIONED...A LARGE
HAIL/TORNADO RISK APPEARS MOST PROBABLE ACROSS NORTH-CENTRAL OK NEAR
THE DRYLINE/FRONT INTERSECTION...BUT THESE THREATS CANNOT BE
DISCOUNTED FARTHER SOUTH ACROSS OK SHOULD STORMS INDEED FORM BY
EARLY EVENING.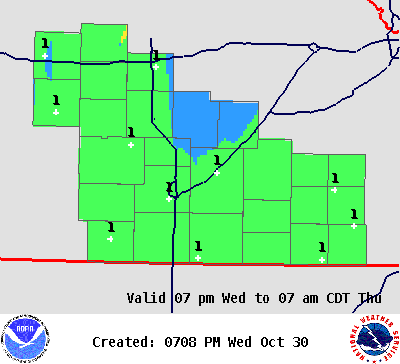 Here is the Hazardous Weather Outlook from the National Weather Service in Wichita, Kansas.
TODAY AND TONIGHT
THUNDERSTORMS WILL PERSIST THROUGHOUT MUCH OF THE MORNING. SMALL
HAIL AND GUSTY WINDS ARE POSSIBLE WITH THE STRONGER STORMS.
A SECOND ROUND OF THUNDERSTORMS IS EXPECTED TO DEVELOP DURING THE
AFTERNOON AND CONTINUE INTO TONIGHT. SOME OF THE STORMS WILL BE
SEVERE WITH UP TO BASEBALL SIZED HAIL AND WINDS TO 70 MPH. THERE
WILL BE A VERY SMALL CHANCE OF A BRIEF TORNADO OVER SOUTH CENTRAL
KANSAS. HEAVY RAIN WITH LOCALIZED FLOODING IS POSSIBLE THIS
EVENING...ESPECIALLY OVER THE FLINT HILLS.
WEDNESDAY THROUGH MONDAY
THUNDERSTORMS WILL REMAIN IN THE FORECAST FROM TUESDAY NIGHT
THROUGH FRIDAY...WITH STRONG STORMS POSSIBLE ON WEDNESDAY AND SEVERE
STORMS POSSIBLE ON THURSDAY.
SOME FLOODING WILL BE POSSIBLE DURING THIS PERIOD...ESPECIALLY OVER
THE FLINT HILLS.
AWN will be starting severe weather coverage around around 3:20 PM. We ask that everyone stay tuned to local TV and radio and stay tuned to the AWL Weather Network for the latest updates as they become available. Stay tuned for updates.